How to Learn Quran Online Effectively
Many of our Muslim brothers share their concerns regarding learning the Quran and Islamic teachings. If somehow, they learn the basic Quran reading, they don't find qualified Quran tutors for special Quran courses. Indeed, learning only the Quran reading is not sufficient. It is not an ordinary book but the Word of Allah Almighty, and we are supposed to have a complete insight into it to comprehend God's message. It is a matter of major concern for the Muslims residing in Australia, Canada, Norway, the UK, or the USA. 
They being far away from traditional madrasas or not finding the experienced Quran teachers try to find alternatives, and their effort drops them at online platforms. Today, the latest technology has made it possible to learn Quran online effectively through web-based meetings. They find an engaging Quran learning environment by joining us on Skype or Zoom and attending their lessons like an everyday physical classroom. Today, more and more people from western countries and the many Muslim States prefer to learn the Holy Quran through online portals. They find it quite convenient to join their online Quran tutor within less than a minute through the internet instead of hiring conveyance and sparing time for traveling to madrasas. 
So, the online platforms are a valid method of learning the Holy Quran and no less than a blessing for western Muslims. Instead of being misled by any false information, have a direct conversation with the website coordinator, and step ahead at your own pace. Here are some creative tips to learn the Holy Quran online effectively. Please follow the advice to deepen your Islamic knowledge.
Clear Your Mind & Focus Your Goal
Learning the Quran requires your precious time and keen interest. Before joining learning Quran online, clear your mind from any unwanted thoughts or stress and prepare yourself to achieve your goal (learning the Holy Quran). There is no restriction of age, gender, race, or schedule for learning the Quran online People of all ages can join the online portals. Also, bear in mind that contrary to other languages Arabic is easy to understand and learn due to simple grammar. You will enjoy learning the Quran online without facing any issues if you devote your time and effort. 
Here you find real-life mentors who understand your culture in addition to teaching you the Holy Quran effectively. They feel pleasure to help you accomplish your tasks and achieve your life's purpose. And learning the Holy Quran is the greatest goal of every Muslim. So, focus on your destination and let your tutors know how they can help you.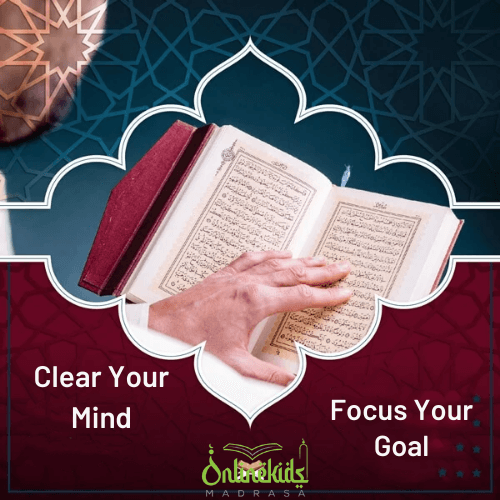 Manage the Learning Environment
Manage a stress-free and quiet space in your home to attend your online Quran classes. Make sure to sit at a place where your attention may not be distracted by the activities of the people surrounding you. It also includes a reliable and fast internet connection with laptops, PCs, smartphones, or tablets. Share your learning of the Holy Quran with your family and friends to enhance their passion and interest in learning Allah's Book and gain His eternal blessings.
Before stepping ahead to join any online Quran learning school, one effective principle is to ask you, "Why do I join my Quran teacher on Skype or Zoom?" Your sole purpose should be to purify our intentions and learn the Holy Book for the sake of Allah so your actions can be regarded as worship and rewarded. So, with sincere devotion, you will be able to learn the Quran online effectively.
Show Your Best Interest & Ask Questions
Asking questions is a great principle to learn anything. It becomes even more significant when it comes to perceiving Allah's message. The more you ask, the more you know. Follow this universal principle and get a deep insight into Islamic teachings. Rest assured, the online Quran learning portals hire only highly qualified and competent tutors familiar with your cultures, languages, mental level, and age requirements. They share their hard-earned experiences and knowledge & wisdom with their online students and perform their best to enlighten their learners' hearts and souls. Pay full attention to your lessons, and feel free to ask questions and any inquiries you have in mind to maximize your understanding.
Achieve Your Goal Step by Step
The standard duration for one-to-one sessions is 30 minutes, and it is an ideal time for your kids who feel reluctant to attend longer sessions. The little kids can easily save to their memory the amount of knowledge being shared in a 30 minutes class. The online Quran teaching platforms also have made it easy to learn the Holy Quran effectively by dividing the whole project into step-by-step courses. Following these steps, your kids can acquire a comprehensive knowledge of the Quran and Sunnah and master the art of teaching it to others. Here are those effective steps.
Conclusion
Last but not least, practice is an integral part of learning. If you want to keep the knowledge stay with you, you must set aside some minutes to revise the recently taught lessons and share your valuable thoughts on the online portal as to how your Quran learning project is going on. Act upon the Islamic teachings and make your life and hereafter successful!