Basic Quran Reading Course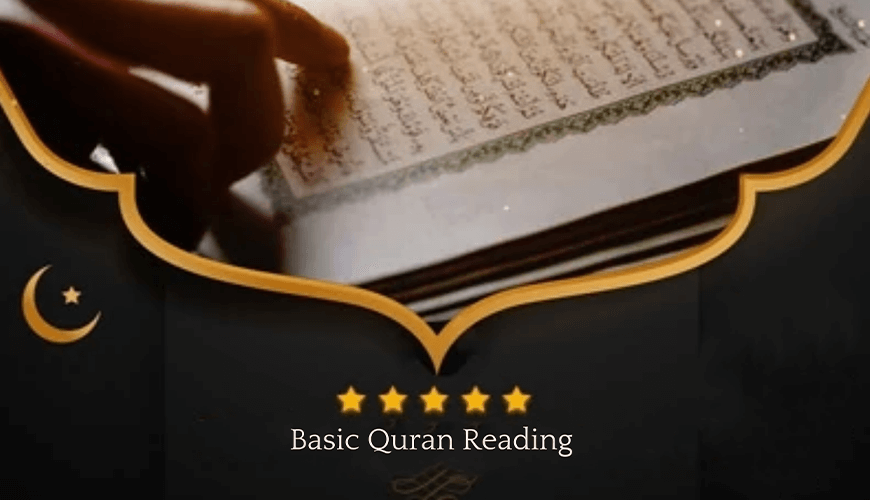 COURSE DESCRIPTION
Allah Almighty revealed the Holy Quran, the last sacred book, on our beloved Prophet Muhammad SAWW. This holy book is complete guidance about all the aspects of life and hereafter. It is a book of direction for the whole of humanity. The Holy Quran was sent in Arabic, so the other nations could not learn the Quran without understanding the Arabic language. For this reason, Quran learning has been an obligatory principle set by Allah on every Muslim. You can guess the significance of the Quran reading from the fact that the first verse of the Holy Quran starts from the word 'Iqra,' which means 'Read.' Allah Almighty says:
"Read in the name of thy Lord and Cherisher Who created. Created man out of a clot of congealed blood. Proclaim! And thy Lord is most Bountiful. He Who taught (the use of) the pen. Taught man that which he knew not." (96:1-5) 
Today, all Muslims turn to this Divine Book to seek solutions to their problems, and it offers complete guidance for all life issues. All the Muslims compulsorily learn to read the Holy Quran and transfer their love and affection for learning to their kids. The people living in the Muslim countries accomplish the basic Quran reading course in their regions. There are many mosques and madrasas where they learn the Holy Quran from qualified tutors. The issue arises for the Muslim communities living in non-Muslim or western countries where they don't find or are away from madrasas.
We have set up an online Quran learning platform, "OnlineKidsMadrasa.com," for all those Muslim brothers' best service. We offer 24/7 Quran classes for kids and adults as well. We facilitate the worldwide Muslims student by arranging the basic Quran Reading Course in their own flexible schedule.
The introductory Quran reading course completes in two steps
Noorani Qaida (Learning Sounds & Spellings)
Noorani Quaid begins with the Arabic alphabet. All the basic Quran reading course students are taught Arabic alphabetic letters, sounds, correct pronunciation, and spelling. The whole curriculum of Noorani Qaida has been formulated as per Tajweed rules. After completing this essential short book within three months, the beginners can spell and pronounce any Arabic word other than their lesson. Our experienced and knowledgeable teachers also train kids by transferring Islamic knowledge as per the student's mental capacity. Our course contents are as follows:
Learning Correct Pronunciation (Makhraj)
Alphabet Shapes
Huroof e Murakkabat or Compound Letters
Sukoon (Jazm)
Leen Letters
Tashdeed
Maddah
Tanween
Harakaat
Vertical Harakaat
Rules of Meem Sakin
Noon Sakin
Full Stop (Waqf)
Complete Noorani Qaida Exercises
Quran Reading
 After ensuring that the kids can pronounce letters and words correctly, the tutors encourage students to go ahead and start Quran reading. The second step continues till the kids learn the complete Quran reading.
We offer 5 days of online classes per week, and the session lasts for 30 minutes. We have employed both male and female home Quran tutors for kids. The joining criterion is quite simple. You are supposed to attend your online Quran learning school at the time you shared with us. We teach online on Skype or Zoom, no other platform. Fill up our easy-to-understand enrollment form to join our online Quran teaching platform.
For your convenience, we have planned a reasonable fee package—no worries about the fee transfer. Please let us know which platform you are convenient to transfer the dues to, and we will indeed cooperate.
Course Features
Lectures

0

Quizzes

0

Duration

60 hours

Skill level

Beginner

Language

English,Urdu,Arabic

Students

32

Assessments

Yes