Islamic Knowledge Course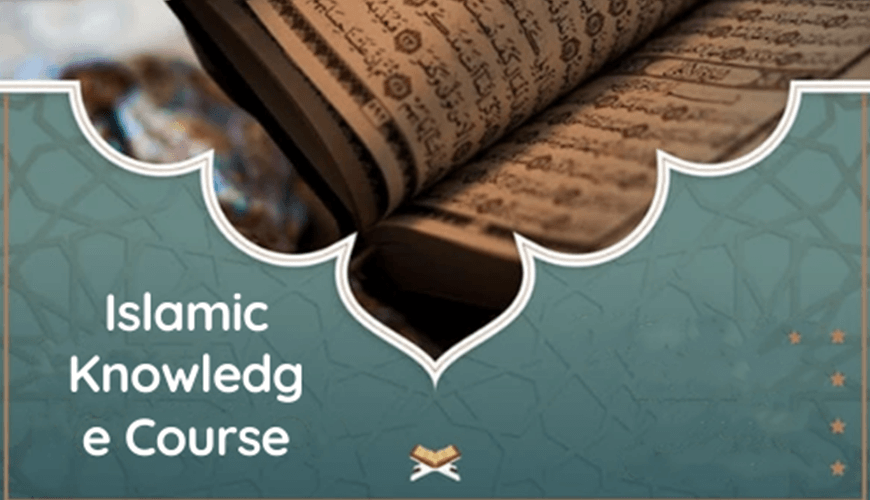 Course Description
This course is designed on three different levels; Basic Level, Intermediate Level, and Advanced Level.
The basic level of this course is suitable for beginners. Intermediate Level is designed for those students who already have basic knowledge of Islamic teachings. The advanced level of this course is designed for those students who already have already a strong grip on basic and Intermediate levels of Islamic teachings.
In the Islamic knowledge course, you will gain a firm understanding of the glorious religion of Islam. The curriculum of the Islamic Knowledge course encloses a wide range of topics that are essential to learning for all Muslims and are not restricted to Fiqh, Faith (Aqidah), Tajweed, Tafseer, Hadith Science, and Islamic History.
Course Contents
Here is a complete detail of the contents that you or your kids will learn in the Islamic knowledge course.
Basic Aqaaid (Oneness of Allah, Angels, Sacred Books, Holy Prophets, Day of Judgement, Destiny (Taqdeer)
6 Kalimas
Faith (Imaan-e-Mufassil & Imaan-e- Mujmal
Five Pillars of Islam: Shahadah, Prayers, Fasting, Zakat, Hajj
Taharah: How to make Ablution & Ghusal (when needed)
Salah (Namaz) Learning: Performance, Friday Prayer, Funeral & Eid Prayers
Daily Life Prayers: Entering the house, looking into the mirror, after sneezing, going upstairs and downstairs, drinking milk, etc.
Memorization: Small Surahs of Para # 30, Ayah-tul-Kursi, Islamic Months, Names of 12 Imams, Dua-e-Qunoot, etc.
Hadith: 40 short and famous
Middle Skills: Eating Manners, Sleeping, Drinking, Sneezing, Thanking, Communication Skills
Sunnah: Boosting students' passion for following the teachings and actions of the Holy Prophet Muhammad SAWW.
Encouragement to opt for good deeds and avoid bad ones
Islamic History: Sharing short & brief life histories of the Prophets and their Companions
Our professional online Quran tutors categorize each content into several steps. We have peculiarly devised instructional resources influenced by recent Islamic studies in applied sciences following revolutionary educational methods and technology.
Enroll in Course
Join us on Zoom or Skype from any part of the world and start your lessons with our professional and skillful online Quran tutors. Share your valuable thoughts about our services, and we love to polish our endeavors under your opinions!
Course Features
Lectures

0

Quizzes

0

Duration

6- 12 months

Skill level

Beginner

Language

English, Urdu, Arabic

Students

2

Assessments

Yes